Commercial Security Shutters
Shopping Mall Security Roller Shutters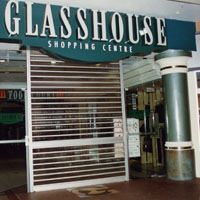 PROTECTION WITH TOTAL VISIBILITY
PROTECTION WITH TOTAL VISIBILITY
Protecting valuable stocks is one of the foremost concerns of all shop owners. Many items require protection and need to be completely sealed away from outside interference.
At the same time, there are many security advantages associated with visibility into stock display areas, enabling security guards to maintain a constant vigil in places like shopping centres.
Your shop remains totally visible, yet totally protected, 24 hours a day.
MANUAL OR ELECTRIC OPERATION
Visionline Roller Shutters are designed to roll up overhead and be operated manually, assisted by torsion springs, or electrically with a tubular motor fitted inside the axle. These economical, space saving motors make opening and closing as simple as flicking a switch.
DEEP SIDE GUIDES
Visionline Roller Shutters penetrate deep inside the strong extruded aluminium tracks to a depth of 40mm. This provides a strong anchor channel for improved security.
BOTTOM OR MID RAILS
he locking bars are housed inside an extruded aluminium section across the full width of the shutter curtain. It can be positioned at the base or at waist height for ease of operation.
ROBUST CURTAIN CONSTRUCTION
The Visionline Roller Shutter curtain incorporates 1.5mm thick polycarbonate slats, connected by tough extruded aluminium connecting slats, providing security, pilfer security, pilfer protection and a barrier against dust and vermin.
CUSTOM BUILT
Every installation is different. YOur Visionline Roller Shutter will be custom built. Roller shutters are available in clear anodised aluminium, with other colour finishes available on request.
TECHNICAL SPECIFICATIONS
Visionline Roller Shutters manufactured from 1.5mm polycarbonate slats, connected by extruded aluminium slats in 6063-T5 alloy, having an overall width dimension of 15.5mm and a height dimension of 30.5mm.